In Pack Line defense, the ability to go "on-to-off" (and back on again) on airtime is vital to protecting the paint and contesting shots.
Moving on airtime of the pass is vital to any defense. There is no scenario in which the ball moves and a defender does not. In Pack Line defense teammates must move in a connected nature to pressure the ball and shrink gaps. Moving "on-to-off" (and back on again) is a foundational skill which Pack Line players must master.
In the diagram above, X1 is defending the ball (ON). Per Pack Line rules, X1 is the only player permitted to be outside the "pack line" – an imaginary arch inside the three point line.
While one pass away X2 is in the "pack" and shrinking gap space by their positioning (OFF). The are about halfway between ball and man. In short, X2's positioning is their help. They help even before needed to deter drives.
When Player 1 passes to Player 2, the two defenders must work in concert and react on airtime while moving from on-to-off and from off-to-on. Keyword: airtime. The movement of the ball via the pass moves you from either off-to-on or on-to-off.
One of the fundamental tenets of Pack Line defense is "don't get stretched." If X1 were outside the pack guarding the ball (ON) and did not sprint to gap/help (OFF) on airtime of the pass from 1 to 2, gap space is exposed and the defense becomes stretched. Player 2 could drive middle through that gap. It is being overly "man-conscious" when OFF that exposes space.
Pack Line Killers: Getting stretched
By moving on-to-off the perimeter defenders build a wall around the paint and offensive players cannot see gap space. If offensive players see space, they will attack it. When moving from ON to OFF it is better to be early than late.
Pack Line Killers: Being late to positioning 
The player moving ON must close out to prevent the rhythm shot. The player moving OFF must get to gap/help to shrink space. In the clip below the Virginia Cavaliers, the Pack Line gold standard, demonstrate going on-to-off and off-to-on in their recent 65-52 win over Florida State.
https://gph.is/2C9ODi9
You can see the two highlighted players going on-to-off-to-on and forcing a contested shot over the top of the defense.
The next clip shows three Virginia players moving with connectivity to apply ball pressure, shrink gaps and fight against penetration. Same result, a contested shot over the top of an organized defense. By moving on-to-off the three highlighted defenders keep the ball from penetration the paint.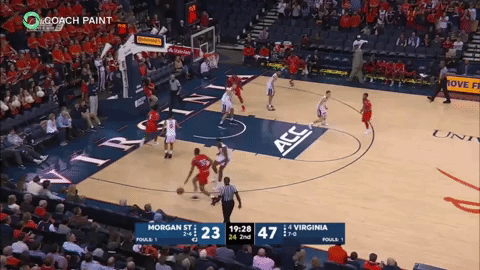 Going on-to-off is the fundamental skill for the top objective of Pack Line defense – building a wall around the paint. It requires great activity and alertness. Players must take as much pride in guarding off-the-ball as they do while guarding the ball.
Follow the link below and add this drill to introduce and apply the on-to-off and off-to-on Pack Line fundamental to your FastDraw library.
Drill: 3v3 On-To-Off – A 3v3 drill to teach moving from on to off to back on again on airtime of the pass.
Further Pack Line reading: Pack Line Playbook: Lock And Trail
Continue the conversation:
For help with practice planning and implementation of a Pack Line or Pressure Man man-to-man defense, join our community of basketball coaches! Follow #PackLine on Twitter!
Any questions: Contact me. Happy to talk hoops any time day or night! Sign up here for our twice-monthly newsletter.
The following two tabs change content below.
Randy Sherman is the owner and founder of Radius Athletics - a basketball coaching consulting firm - where he consults with basketball coaches at all levels on coaching philosophy, practice planning, Xs & Os and teaching a conceptual style of basketball. While a head basketball coach at the the interscholastic level, Sherman's teams won 197 games in nine seasons.
Latest posts by Randy Sherman (see all)
Florida State Seminoles guard Trent Forrest (3) during the NCAA College Basketball game between the Florida State Seminoles and the Virginia Cavaliers at John Paul Jones Arena on Saturday January 5, 2019 in Charlottesville, VA. Jacob Kupferman/CSM(Credit Image: © Jacob Kupferman/CSM via ZUMA Wire)