The secret is out: we have a thing for X's and O's.
X's and O's are the foundation of our preparation both on the court, and here in our Chicago-based HQ. In your case, your X's and O's may be your team – in ours, it's our employees. In both cases, we arrange our X's and O's into positions, give them a goal, and lead them in different directions, ultimately to achieve that specific result.
In our world, where X's and O's blend between sport and innovation, our cross screens mean working cross-departmental, whereas passing off a new feature for it's final review would be the equivalent of a dribble handoff – sometimes it's a clear lane to the basket, and sometimes adjustments are made on the fly. Everytime, however, the board is cleared in preparation for the next play.
After years of digging through your playbooks, we thought it was time to share the foundations of our playbook. Our X's and O's. Our employees.
In this FastModel X's and O's feature, we spoke to our guy, Daniel Oakes. Here's a little bit about 'Oakes' and how he literally puts the power in your preparation.
What is your name?
[D]: Daniel Keith Oakes. Keith is from the famous artist Keith Sweat. 
Hometown?
[D]: Missouri City, Texas. Home of Travis Scott, home of TJ Ford, home of Ivan Macfarland, and the mighty mighty Hightower Hurricanes. H-town Baby!
What's your current position at FastModel?
[D]: Engineer – primarily backend – making sure all of the infrastructure and services are running to support our beautiful apps.
What's your favorite thing about working here?
[D]: HOOPS, love hoops, love basketball. Loved it as a kid, loved it as an adult. I don't play it as an adult, but I'm glad I can contribute to the game in any way I can… without it having to be physical!
Favorite team?
[D]: Lakers
What is one of your favorite projects that you've worked on at FastModel?
[D]: Favorite but challenging, was probably Lineup Stats. It was tough. We got discouraged at times but we fought through it. We take massive amounts of data, segregate it, aggregate it, and now we're able to tell teams who are the best four, three players on the court at a single time, over a range of times. Good stuff.
Do you still play basketball?
[D]: I used to. I do every now and then. When I get out there, I go too hard sometimes and I feel like the 21 year old 'Oakes,' and I'm not him anymore. I end up hurting myself. I always judge people in the Loop with boots on [their feet]. Like, "What were you doing to have a boot on?" So I try to stay away from it, probably because I love it too much and I go too hard.
What was your go-to move back in the day?
[D]: A right to left crossover. Just a right to left. Tim Hardaway, Allen Iverson style. Never did a Euro step in my life. That was after my time. 
Do you have any other interests or hobbies?
[D]: Absolutely! Part-time DJ, part-time photographer, full-time Dad, full-time Husband. 
[Editor's Note: Dan's wife is due with their second child in mid-November! New member of the FastModel Family coming soon!]
What are you listening to right now?
[D]: That spotify playlist right now is Khruangbin, a band out of Houston, Thai funk, I really rock with them. All-time favorite group is Outkast.
Do you have a favorite dance move and can you show us how to do it?
[D]: I do, I do. I made this one up as kid. I was about 12-13 years old. 
Do you have a name for it?
[D]: The Sway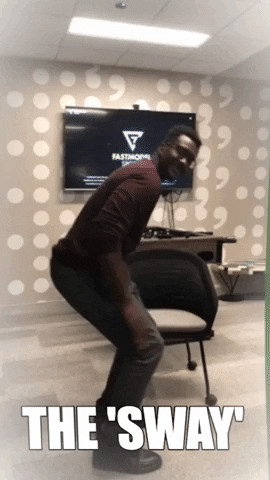 A big thank you goes out to Daniel for his time and dedication to this video, our product, and our vision. If you have any questions for Daniel about Engineering at FastModel or have suggestions for our next feature, comment below!
The following two tabs change content below.
THE BEST IN BASKETBALL We create basketball software, mobile apps & coaching content for NBA, NCAA, HS and youth coaches and players. #XsOs #FastModelFamily Products: FastDraw, FastScout, FastRecruit
Latest posts by FastModel Sports (see all)
Brett Hartig – Director of Data Operations